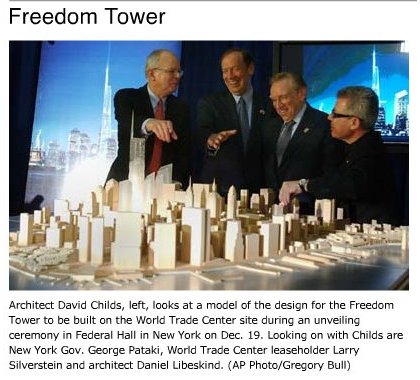 Facts
- Freedom Tower's cornerstone was placed during a ceremonial groundbreaking on July 4, 2004.
- The 200-foot-high base will be coated in titanium and stainless panels, including the 80-foot-high lobby, to deflect potential bomb blasts.
- The 414-feet tall decorative spire will encase an antenna with a lighting system to make it into a beacon.
- There will be an outdoor observation deck at 1,362 feet above the ground, the same height as the one on the old South Tower. A parapet wall will then rise six more feet to a height of 1,368, the same heigh as the old North Tower.
- The desired schedule for construction, calls for the tower's foundation to commence April of 2006, concrete to grade by the end of 2007, topping out in 2009 and completion in 2011.
- This building will consist of 69 office floors, and 13 non-office floors with uses ranging from mechanical to dining.